Filed Under: Featured, Military

Print This Post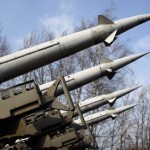 Several weeks ago, President Obama made one of the best decisions of his Presidency.
He decided to support South Korea by after North Korea attacked the island of YeonPyeong.  And he did it with the strength of our military by moving them into the area and engaging in military exercises with our friends in the South.
I was afraid at the time that he would turn his back on Seoul, but instead he did the right thing for the region and for the United States.  Well done, Mister President.
This morning, South Korea followed through on its plans to conduct artillery drills on that same island, plans which had brought promises from the North that there would be further attacks due to this new "provocation".…