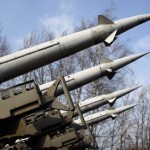 Several weeks ago, President Obama made one of the best decisions of his Presidency.
He decided to support South Korea by after North Korea attacked the island of YeonPyeong.  And he did it with the strength of our military by moving them into the area and engaging in military exercises with our friends in the South.
I was afraid at the time that he would turn his back on Seoul, but instead he did the right thing for the region and for the United States.  Well done, Mister President.
This morning, South Korea followed through on its plans to conduct artillery drills on that same island, plans which had brought promises from the North that there would be further attacks due to this new "provocation".
And the result of it all was… nothing.  The drills proceeded without incident, the North kept quiet (except to say it "did not feel any need to retaliate", and we can all go on without worrying about yet another messy war to deal with today.
Although the experts don't seem to know why Pyongyang held back her fury, it seems pretty likely that the North was trying to leverage opportunities for improvements in economic relations, and did not really have the stomach for either an extended conflict or the potential for all out decimation.  The South's partnership with the United States is, in my opinion, no small part of the successful conclusion to today's events.  And President Obama deserves credit for that.
Today's results should provide continued evidence that a strong US military with a demonstrated willingness to follow through on her commitments to her allies will be a keystone to ensuring general peace around the world.  While we are struggling with conflicts that are sometimes hard for us to accept, walking away and disarming our forces will only embolden countries like North Korea to press further than they have a right to.
It may not be perfect, but it works and is necessary.
Please pray for our soldiers and a day when they may never need to fight again.