Filed Under: Featured, Government, Government Spending

Print This Post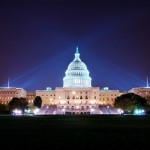 Finally, someone has the answer to solving the debt crisis that has hit the Federal Government! And amazing as it may seem, earlier this week the junior senator from Iowa came up with the idea, a truly out-of-the-box solution. Forget Congress, the President can go ahead and raise the debt ceiling with an Executive Order.
And, according to Tom Harkin, it's okay because the Constitution doesn't prohibit the President from taking this action!
With just a week to figure out what to do, this is Harkin's answer: punt.
What he said was that the President could sign an executive order raising the debt ceiling. He said you'd rather have Congress do it, but there's nothing in the Constitution that prohibits the President from issuing …