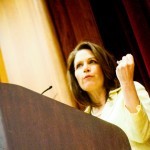 Seven Republican Presidential contenders took the stage in New Hampshire Monday night in attempts to sway the primary electorate in their favor. Though the performances of all were respectable, their level of success in making their cases was varied. The following is a recap of what went down, who went up, who maintained, and what surely raised some eyebrows.
The Format and The Field
In general CNN did a nice job making the debate informative and substantive. What did not work was attempting to do away with the traditional bell or buzzer to limit each candidates response time and giving them only 30 seconds to answer the questions. Thirty seconds is simply not enough time for anyone to explain their position on complex issues, especially when the questions are multi-faceted. The result of this was moderator John King, who I very much respect, constantly trying to interrupt the participant's responses, some of these interruptions were justified, most were not, and all were distracting.
In terms of the candidates, it was stunning both how cordial they were to each other and how little difference existed between them on the vast majority of their positions. Anyone who closely followed the 2008 primary debates could instantly tell that the Republican Party has shifted further to the right than it was four years ago. To Conservatives this is not only a positive on substance, but is also comforting as it guarantees that the 2012 election will be a clear ideological choice for the rest of the Country. This is something that you could not necessarily say about McCain vs. Obama in 2008 as, though it is hard to believe now, Obama actually ran as a "unifying" moderate Democrat (no chance he gets away with that this time!).
Eyebrow Raisers
Here is a snap-shot of both the good and bad headlines that were made and the things said that could have a lasting impact on the race.
1) Though provoked, Tim Pawlenty inexplicably chose not to attack Romney on health care and Rick Santorum took a pass at wounding Romney on his abortion flip-flop.
2) Michelle Bachmann replaced answering the first question asked of her with the unexpected announcement that she is officially running.
3) Bachmann played into the potential "extremist" label by implying that she believes a pregnant woman whose life is in danger, has been impregnated by a family member, or is the victim of rape should be legally required to give birth to the child. I realize that many hard-line Republicans may agree with this and that often these exceptions can be a ruse to justify an abortion, but the point is that, by and large, this will be controversial to the general electorate.
4) Even after months of running for president Herman Cain still refuses to provide any level of specificity regarding foreign policy, even after being widely criticized for his failure to do so in the first debate.
5) Newt Gingrich "re-back tracked" on his statement that Paul Ryan's Medicare reform proposal is "right wing engineering". After saying this initially, then the following day saying his comments were "unfortunate", last night he dug in and defended his original words (though he gave a fairly effective, all be it nuanced, explanation).
6) Ron Paul, in responding to what he would do regarding our current troop deployment, gave probably the best answer of the night by saying "I wouldn't wait for my General's; I'm the Commander In Chief. I make the decisions, I tell the Generals what to do, and I'd bring them home as quickly as possible." This was great in that it shattered the multi-administration practice of using the Generals and there recommendations as an "excuse" to avoiding making the hard decision of ending a war. As soon as a General says, "I think we should lose this war now and leave immediately" I will characterize this practice differently.
7) Paul emphatically said that as president he would not authorize drone attacks on Al Qaeda in Yemen or in Pakistan (and presumably anywhere else).
8) Paul also said that hospitals should not be required to give illegal aliens (in this example a 5 year old child) emergency room medical care. Now even the most passionate Ron Paul supporters have to realize that, regardless of what merit one might think it has in theory, you simply can't say something like this in presidential politics and expect to win anything.
The Winners, The Maintainers, and The Losers
This debate saw three candidates gain a great deal; two do enough to keep their position in the field unchanged; and two who likely saw the status they have worked hard to build up diminished. The following categorizations are all based on individual expectations coming in and what they needed to do to boost their place in the pack.
The Winners
Michelle Bachmann—It's hard to imagine her first appearance in the race, and on the National stage, going much better than it did. It was not only obvious that she belonged in the race, but that she is very near the top tier already. She confidently displayed her firm grasp on the issues, effectively alluded to her large and ongoing role in the fights on Capitol Hill, and emoted aggressiveness in going after Obama—something that Republicans are starving for. She said she would not rest until Obamacare is repealed and would spur job creation by bringing down tax rates substantially and reforming/repealing the EPA. You know it was a good night for her when the only indecisiveness she showed was on the question of who she preferred between Elvis and Johnny Cash, her answer…both.
Newt Gingrich—Anyone who thought Newt was going away anytime soon must now consider that opinion a gross overreaction. Of all the candidates on the stage it was clear he was the most steeped in history, policy, and that he was the most natural debater. The immediate post-debate reaction from the CNN crew tried to make his statement that he would demand anyone in his cabinet be committed to the country and the Constitution akin to McCarthy-ism. That is complete rubbish. He called the Obama administration a "destructive force", said he would repeal the Dodd-Frank financial reform bill as well as defund the National Labor Relations Board, and would quickly work to repeal Obamacare. Speaking of Obamacare, he was the only candidate to acknowledge the importance of a Senate majority in achieving repeal. He also said that he would re-assess our whole involvement in the Middle East and would bring our troops home as soon as possible (pursuant to their safety).
Rick Santorum—Anyone who sleeps on this guy's chances is making a huge mistake. His two debate performances have been impressive and even if he is not able to claim victory, he has VP shortlist written all over him. Though you are not hearing a lot of buzz about him he actually gave the evenings most decisive and specific answers, and once again proved that this stage is not too big for him. He fully embraced both Paul Ryan and the Tea Party, said he would cut the capital gains tax rate in half (after 5 years of 0% capital gains), and had a well thought out and specific plan to phase out ethanol. He very successfully made the case that Obama would begin cutting Medicare in 2014, while saying his approach would be to turn the whole system into something very similar to Medicare Plan-D. Overall he delivers clean, forceful sentences and already has a large natural base with the religious right (which either Romney or Huntsman would covet in a running mate should they win the nomination).
The Maintainers
Mitt Romney—Coming in as the perceived front-runner, he likely did enough to maintain this position. He made no mistakes while intentionally breaking no new policy ground. On all major issues he spoke in the most fundamental terms of all the candidates, likely foreshadowing a strategy of staying broad-viewed and specific free in the races early stage. The biggest pluses for him on this night were that he gave the most coherent and convincing defense of Romneycare to date, and was not subjected to repeated attacks from the rest of the field, as was expected.
Ron Paul—Paul gave his standard strong performance, which unfortunately also included his usual hammering on a handful of his positions that make him an unrealistic general election candidate. He is so right about nearly everything in the domestic realm, but no Republican (or Democrat) will ever win the presidency by refusing to pro-actively attack Al-Qaeda with drones. The only way this position would be feasible is if you took the drones off the table while simultaneously offering an alternative strategy to protect us from the threat of terrorism. There is no doubt that the American people would support ending all our current engagements in the Middle East, but just implying that this alone would end the risk of being attacked is never going to fly. It continued to be obvious just how much the Republican Party has gravitated his way over the last four years by how many times the other candidates referenced both his view points and his answers (something that never happened in the 2008 primary debates).
Not only did many of the candidates say, as Paul has forever, that it is time to quickly end all three wars, but I have never heard "states' rights" mentioned so many times in a debate before…and for that we thank you Ron. If the election only concerned domestic affairs I think it would be shocking how well he would do.
The Losers
Tim Pawlenty – For a candidate that so many expect to break through any day now—the wait continues. Though his performance was solid he really needed to do more, and he had the chances to. Not only did he inexplicably fail to challenge Romney over health care, he also failed to capitalize on being the only candidate so far to have released a specific economic growth plan, which he did last week. Talking his plan up should have been the first thing on his agenda (and the second…and the third). He absolutely could have drawn the distinction between himself and the rest of the field that he desperately needs by saying "I am the only candidate on this stage that has a concrete plan to turn the economy around, the rest of these people are only offering words". That being said, he did give strong answers on fair trade, right to work, and was the only one to mention the importance of appointing Conservative justices to the courts (which he had a good record of doing in Minnesota).
Herman Cain—While he was able to shine with the lower-tier candidates in the first debate, Cain struggled to stand out amongst the heavier hitters. What hurts him the most is that while others are able to point to decisions they have made, votes they have taken, and legislation that they have championed, he is not able to do the same. Not being able to cast himself in those roles creates a perception, probably an unfair one, that he is removed from the fight. He could counter this by bringing to the debate specific, innovative, and well thought out solutions, but as of yet these are in short supply. Driving this point home was the fact that, despite being the former CEO of a restaurant chain, he did not even have a specific opinion on the FDA—saying in response to a question that "maybe" they need to be reformed or stream-lined. There is a lot to like about him, and he did have some good moments, but how he thinks, after months of running for president, that he can refuse to give specific foreign policy opinions is beyond me. If anyone has the personality to make some populist noise it is him, but more than any other candidate he needs to be offering unique, brilliant, and very specific proposals to stand out. If he does this he will elevate his status, until then he will remain buried in the pack.
Photo courtesy of TEApublican.