Filed Under: Featured, Politics

Print This Post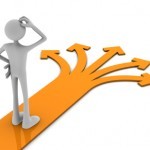 "They are all weasels." "You can't trust any of them so why should I care?" "All they care about is getting re-elected so what's the point?"
For generations the biggest criticism of politics, and one that drives
millions of Americans to "tune out," is that politicians say one thing then do
another.  This is the sentiment expressed by our friends who hate politics, and we all have them, when they say various forms of the quotes listed above. The sad truth is that even for those of us who love it, it's a point that proves hard to argue.
If the problem was this simple I would say that the solution would be equally so, but there is more at play here. The surest and …