Filed Under: Featured

Print This Post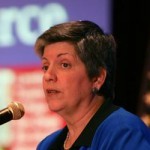 Not in my wildest dreams would I believe that a US official could be so stupid as to say something like this in the face of unrelenting facts.
And intriguing enough is that it happened on CNN, whose reporting tends to be as supportive of the Obama administration as possible.
Of course, this is coming from the leader of the same department that earlier this year targeted "right-wing extremists" as high-risk for recruiting new members and conducting terrorist activities.
About the only spin one could put on this is that "…the system worked, but it's broke".  That perspective behind a statement like this is part of the problem.  Saying that everything worked like it's supposed to but it's not supposed to work that way just …