Filed Under: Featured

Print This Post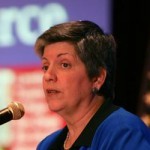 Not in my wildest dreams would I believe that a US official could be so stupid as to say something like this in the face of unrelenting facts.
And intriguing enough is that it happened on CNN, whose reporting tends to be as supportive of the Obama administration as possible.
Of course, this is coming from the leader of the same department that earlier this year targeted "right-wing extremists" as high-risk for recruiting new members and conducting terrorist activities.
About the only spin one could put on this is that "…the system worked, but it's broke".  That perspective behind a statement like this is part of the problem.  Saying that everything worked like it's supposed to but it's not supposed to work that way just leaves one wondering how much thought is going into the design of the process that is supposed to be protecting our country.
Clearly the system is broke.  To think that someone who has been identified as a terrorist risk like Umar Farouk Abdulmutallab could be allowed onto a passenger jet without careful screening is just insane… and there are 500,000 people on the list he was placed on a month ago!  As I shared in my piece at the Des Moines Register yesterday, the entire focus of trying to fix this is over-reactive toward making a show instead of fixing the real problem of utilizing the data we have in hand in the right way.
Instead, our leaders are stuck in spin mode trying to distract us from the truth, and slowly eroding our freedoms in the process.  Unfortunately, they're only succeeding in eroding our confidence.
Oh for one honest politician that can just say "We screwed up".
Hat tip to Politico, via Hot Air, via Red State.
About the Author
Mr. Smith is the Publisher of The Conservative Reader. He is Partner/Owner of Ambrosia Web Technology as well as a Systems Architect for Wells Fargo. Art hold a degree in Computer Science from Drake University in Des Moines, Iowa, and is a political blogger at the Des Moines Register. Art's views are purely his own and do not necessarily reflect the views of Wells Fargo.
1 Comment(s)
A Mills | Jan 4, 2010 at 8:57 am | Reply

Dear Sir Madam
Thank you for your letter questioner, I have read it and have to ask my self what part of it you would endeavour to carry out, lets be honest, the last time you were in power you were doing the same as this present government, all promises very little action for the good of the people, do you really think that we the people, can honestly believe in you ?
The country as we all know is, and has been in a mess for some time, thanks to successive governments, having self interests, when I have to ask my self will we get a leader who's only interest is for the good of the people and country
Not long ago one of the local conservative's councilors paid me a visit, wanted to know if he could count on my vote, so I asked him what he felt was the most important thing he had done for this parish since he had been in office, he informed me that he had personally had the road leveled at the end of the village were the large puddle was, he has obviously not I feel been back to check on the road, as the puddle is still there, now to me that is shamefully trivial, he would have better employed putting the seats back in the bus shelter were the old people have to stand and wait for the bus, but this is not what its all about, so tell me why I should trust your promises and pledges when you can so easily move the goal posts to suit your interests, I only wish I had taken politics up when I was a young man, then I would have a nice home good pension good expense account curtsy of the tax payer, and not have to live in a council house struggling to get the council to do the job that they were elected to do,
Sorry, comments for this entry are closed at this time.