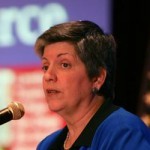 Not in my wildest dreams would I believe that a US official could be so stupid as to say something like this in the face of unrelenting facts.
And intriguing enough is that it happened on CNN, whose reporting tends to be as supportive of the Obama administration as possible.
Of course, this is coming from the leader of the same department that earlier this year targeted "right-wing extremists" as high-risk for recruiting new members and conducting terrorist activities.
About the only spin one could put on this is that "…the system worked, but it's broke".  That perspective behind a statement like this is part of the problem.  Saying that everything worked like it's supposed to but it's not supposed to work that way just leaves one wondering how much thought is going into the design of the process that is supposed to be protecting our country.
Clearly the system is broke.  To think that someone who has been identified as a terrorist risk like Umar Farouk Abdulmutallab could be allowed onto a passenger jet without careful screening is just insane… and there are 500,000 people on the list he was placed on a month ago!  As I shared in my piece at the Des Moines Register yesterday, the entire focus of trying to fix this is over-reactive toward making a show instead of fixing the real problem of utilizing the data we have in hand in the right way.
Instead, our leaders are stuck in spin mode trying to distract us from the truth, and slowly eroding our freedoms in the process.  Unfortunately, they're only succeeding in eroding our confidence.
Oh for one honest politician that can just say "We screwed up".