Filed Under: 2012 Elections, 2012 Iowa Caucus, 2012 Presidential Election, Featured, Party Politics, Republican Party

Print This Post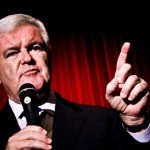 The purpose of this post is to provide a high level summary and personal opinion about the Republican Presidential debate held last night, October 18th, in Las Vegas.  The moderator was CNN's Anderson Cooper.  The debate included: Speaker Gingrich; Governors: Perry and Romney; Senator Santorum, Representatives Bachmann and Paul: and businessman Herman Cain.
I prefer to not label people as "winners" or "losers" so I will define my analysis in terms of how candidates met my personal expectations.
Exceeded Expectations: 
Speaker Gingrich – As usual, Newt had the wittiest and most concise observations. More importantly, he chose to stay out of the mudslinging featured by the lower tier candidates.
Best Moment – After virtually every other candidate attacked Herman Cain's 9-9-9 tax proposal, …