Filed Under: 2012 Elections, 2012 Presidential Election, Featured, Federal Budget, Fiscal Policy, Party Politics

Print This Post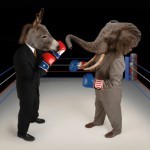 The question sounds simple enough. How do you balance the Federal budget?
Already in the midst of an epic ideological struggle, our Country's attempt to answer this question has even further defined the massive divide in political philosophy that has beset us.
The form this divide has currently taken is the debate on whether to raise the debt ceiling and, if so, on what conditions. While this has merit as a political reality the whole discussion is a mere surface abrasion of the underlying issues—issues that can't be solved by each side conceding a point or two and adjusting some numbers.
The real value for Conservatives in the debt ceiling debate, and all budget related squabbles, is that it exposes the Country to the true …