Filed Under: Featured, Featured Local, Political Participation, Politics, Republican Party

Print This Post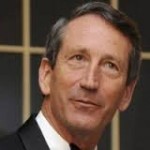 Last Week Steven Colbert said the results of Tuesday's special election to fill a South Carolina House seat 'scared him to his core'—I couldn't agree more.
Of course he was referring to disgraced Republican Governor Mark Sanford completing his political comeback by beating Colbert's sister Elizabeth Colbert Busch (54% to 45%) on Tuesday night.  Sanford's victory came despite him being less than four years removed from weaving a web of lies that included cheating on his wife and leaving the country during his term as governor to be with his mistress.
What were they thinking?
The only justification for voting en mass for such a man was that palmetto Republicans didn't at all like Ms. Colbert Bush.  I'm not saying I blame them since even …