Filed Under: 2012 Elections, 2012 Presidential Election, Elections, Featured, Government, Party Politics, POTUS

Print This Post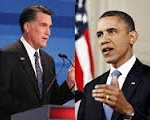 Lost in the sea of coverage following Mitt Romney's selection of Paul Ryan as his running mate, was the news that the moderators for the three Presidential debates, and one VP debate, were also selected.
There is a certain kind of news one receives that falls into the category of "this may or may not be bad—but it can't be good".  For Republicans, learning of the moderators that will be at the helm for these four debates certainly earns this distinction.
In order of appearance they are- Jim Lehrer (PBS News Hour), Martha Raddatz (VP Debate-ABC News), Candy Crowley (CNN), and Bob Schieffer (CBS News).
Since the Romney campaign had to sign off on each moderator, it is hard to imagine that they could not …