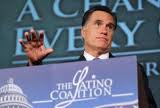 (The following piece is a guest writer contribution from Chad Brown)
Iowa's Latino Heritage Festival is celebrating its 10th anniversary this year and has grown into the largest cultural event in our state.  This is a family event that offers something for everyone.  It is a time of celebration.  I also feel it is time to engage in an honest conversation.  I want to present my argument for why the Republican Party is the best Party to advance the best interests of Latinos in our city, state and country.
We are witnessing the progressive growth of Latino businesses in Iowa. They generate millions in sales every year and create thousands of jobs for Iowans.  Latino businesses are among the fastest growing   segments of the small-business-community in our state.  In a time of economic doldrums, we wish success on all business.
The health of the Latino business community depends on the risks taken by everyday people who want to take a chance and build something out of nothing.  This is how business has always operated in the United States.  This is the American Dream.  Small business embodies the hope of this nation to build a better life for ourselves and our children.  The Latino community has much to celebrate during the Latino Festival.
Republicans encourage the Latino community to continue their pursuit of the American Dream. We disagree with Obama that business owners don't build their businesses.  We have countless examples in the family-owned small businesses that now face unprecedented government regulations. Republicans sympathize with the individuals who struggle day and night to make ends meet and keep their workers employed.  We share the worries of the workers who are concerned they will find themselves unemployed due to a stagnant economy.
Republicans, like Myself, are optimists. We believe this century can be a time of incredible prosperity for every single person in our country who is willing to try – if we create an environment where entrepreneurs, both in the Latino community and in all communities, can flourish.  This growth in the Latino community can be sustained by low taxes and energized by new technologies.  Prosperity for small business and workers can be reached if their businesses are unleashed through lighter regulation.  We can expand our growth through free trade with our neighbors.  We have an opportunity beyond all our expectations that is within our grasp.
The Latino community, along with all other communities, can reach unprecedented levels of success through allying the Republican Party. Every group owes itself the ability to flourish in the United States. The Republican Party has candidates who know how to encourage the growth of both large and small businesses.  Together, we can accomplish goals beyond anyone's wildest expectations.