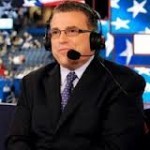 The news last week that recently hired Yahoo News Washington DC Bureau Chief David Chalian was fired for a truly unbelievable "hot mic" moment was bad enough–but digging into his background re-enforces the mess that likely awaits Mitt Romney and Paul Ryan come debate time.
Chalian was fired for yucking it up with fellow reporters by saying that "They (Republicans) are not concerned at all.  They are happy to be having a party while black people are drowning (Hurricane Isaac)."  You can hear the "hot mic" comment here along with the, almost as disturbing, huge laughs this got from the reporters he was talking to.
In an earlier piece, I made the point that the folks selected to moderate the three Presidential debates and the one VP debate were very concerning–and possibly incapable of approaching this crucial role objectively.  This revelation regarding David Chalian should win over any of those who thought I was making too much of this story–here is why.
David Chalian's Background
As noted by Tucker Carlson, Chalian was not a mere media foot soldier.  He had risen through the ranks to become Political Director at ABC news (2007-2010), Political Editor for PBS NewsHour (2010-2012), and had just been hired as the Washington DC Bureau Chief for Yahoo News (November 14, 2011-last week).  Not too shockingly, his professional accomplishments include an Emmy nomination for producing Charlie Gibson's infamous Alaska interview with Sarah Palin in 2008.  There is simply no chance that his personal hyper-partisan and crass political viewpoint did not come up in the private job interviews he had with the network brass that eventually hired him.
Worse yet is that, recalling the four news organizations who are supplying the moderators, two of Mr. Chalian's former employers will be controlling the conversation in what will be the most watched debates in political history.
First, you have the PBS NewsHour.   This is both where Chalian had worked until last November as Political Editor and the home of Jim Lehrer who will moderate the first debate.  Second, you have ABC News, where Chilian served as Political Director for three years.  This news room is providing Martha Radditz as the moderator for the Paul Ryan vs. Joe Biden debate.
This is not to say that these moderators share the same despicable view of Republicans that Chalian was revealed to have, but what it does point to is the internal culture that thrives in these organizations.  Simply put–there is a great chance that this bias not only exists in the other "journalists" who have climbed the totem pole at these networks, but that it will shine through one way or another in the upcoming debates.
Upon being hired by Yahoo News last year, Chilain did an interview in which he said working with Yahoo would provide, "an unparalleled opportunity to deliver high impact, high quality storytelling in what is shaping up to be a really consequential presidential election."  Huh…I wonder what he meant by "high impact" storytelling?
((To read original story click here– "The 2012 Presidential Debates: When Moderators Aren't Moderate" ))