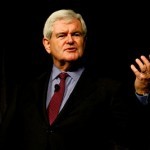 If ever there is going to be a moment for former Speaker of the House Newt Gingrich to create momentum and change the flat trajectory of his presidential run—now is the time. One day after the release of a Fox News poll, which surprisingly showed him gaining substantial ground in the race, Gingrich took to the stage at the Principal building in Des Moines to unveil his newly minted "21st Century Contract with America".
Updated from the 1994 version, this new contract will serve as the backbone of his campaign and its acceptance or rejection will determine his fate one way or the other.
In the world of presidential politics such fate is largely decided by three things—the style, the substance, and the politics. Here is a brief analysis of all three.
The Style
By any objective measure this event was a success for the former speaker. It displayed a candidate and a campaign that, at a minimum, is hitting its stride and indeed may be ready to become a major player in the race going forward.
Standing on a small stage at the bottom of a room that can be best described as a large movie theatre, Newt showcased many of the positive characteristics that have marked his long political career. He spoke for an hour without a teleprompter or notes and smoothly communicated his message to the audience while appearing very comfortable in his own skin.
The setting was remarkably similar to a college lecture hall and his experience as a professor no doubt factored into his comfort level. Much like his strong debate performances of late, this setting played to his strengths and the result was a candidate able to speak to a variety of issues in a succinct, relaxed, and presidential fashion.
The Substance
After being presented the outline for his new "contract", one thing is certainly clear—this is a campaign that will not lack grandeur.
Quickly letting the audience know how high he thinks the stakes are, he explained the reasoning behind the large scale of his vision by saying "countries can die without adequate leadership".
By and large the 21st Century Contract with America is a sweeping document of declared intent. In most cases the solutions he outlines are intentionally vague as his plan is to slowly codify specifics as the campaign progresses. Following a "national conversion", the aim is to have the contract fully fleshed out by September 27th of next year.
His solutions are largely modern day Conservative Republican fare (not a bad thing), whose main thrusts are to inject simplicity and choice into the dealings that we as citizens have with government. Any American serious about vetting the Republican candidates needs to read through the document on their own (availiable here), but here is an overview on a few major issues.
His first order of business would be to repeal Obamacare and replace it with a free market set of solutions to bring the cost of insurance down. The overall structure of our health care system would basically remain in place while insurance policies would be made portable, able to be purchased across state lines, and able to be optionally blended with personal health savings accounts (even in Medicare and Medicaid). These things along with tort reform and digitalizing medical records would attempt to radically decrease premiums without the use of mandates.
He would work to strengthen Social Security while keeping it at the Federal level and push for a voluntary option for young people to put a portion of their contributions into a Social Security savings account. The owner of this account could then choose to take this money and retire (or not retire) at any age they wished.
Perhaps the most interesting areas of this document come under the headings of taxes and immigration.
His business tax proposals are to reduce the corporate tax to 12.5%, abolish all capital gains and estate taxes, and allow 100% write offs in one year for all new equipment purchases. Personal income taxes would be handled by offering a choice to each citizen to either pay under the current system or file with a newly offered one page option. The one page would consist of taking your income, subtracting a standard deduction, taking a deduction for charitable giving and home ownership (if applicable), and multiplying that number by a single set percentage (which is left unspecified).
The headline on his immigration initiative is that there would be a deadline date for securing the border by January 1st, 2014 ("secure" is left undefined). Though it is not stated the inclusion of a firm date strongly suggests that following "securing" the border would be some form of amnesty. While a few years ago this idea would have been a non-starter for a large block of Republicans, currently the reality seems to have set in that this type of a trade-off is the only way to deal with this problem and finally move forward.
The Politics
Skeptics of the recent Gingrich campaign surge could doubt that he has the fiery sizzle to overcome his slow start and existing baggage— and be justified.  Meanwhile critics of his 21st Century Contract with America could attack the plan for being a little light on specifics (especially since Newt is not prone to lack of minutia)—and attack they may.  That being said, going forward this campaign has many more advantages to exploit than disadvantages to fear.
Here are six factors that point to his candidacy not only continuing to build on its current momentum, but that also have the potential to thrust him into the top three in a short amount of time.
#1) His mastery of the debate format, the reason that he has recently gained ground, will be an ever-growing advantage moving forward.  As the number of candidates on stage dwindles he will be allotted more and more time and will be more easily compared to the less capable candidates.
#2) Republicans are likely to recognize that a supremely informed, smooth, and skilled debater will neutralize Obama's biggest advantage (smooth flowery rhetoric).
#3) Now that he has a specific doctrine to anchor his campaign the focus will shift there and drift away from the personal issues that previously have been sucking up oxygen and damaging his campaign.
#4) A close examination of his policy proposals reveals that he has a large number of Tea Party friendly stances and would garner their support, while not being too linked to them to hurt him in a general election.  In 2012 Republican politics this is what you call "the sweet spot".
#5) The concepts of personal choice, competition, deadlines, fresh ideas, and lower taxes that are found throughout his platform will all appeal to true political independents—namely those that voted for Obama last time thinking that's what they would be getting.
#6)  As the race gets closer and more real, Republicans have a track record of deciding on the grounds of experience and perceived wherewithal to win…McCain anyone?  Consider this— it's easy to make the argument that he is as capable, if not more so, than Mitt Romney, while it's hard to argue that he is not more Conservative.
The bottom line politically is that Newt stacks up well to the rest of the field in many categories while largely lapping them in depth and substance.  As the race wears on he, oddly enough, finds himself with many advantages to gain from and plenty of time to do it…and he certainly doesn't have to worry about peaking too soon!
In terms of the release of the new contract and the impact it will have on his campaign the analysis is fairly simple.  The concept of a contract with the American people was a great idea and a brilliant political vehicle in 1994…and it still is in 2011.
Photo Courtesy of Prezography.com