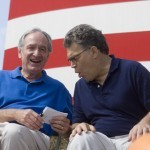 Harkin and Herbalife
Every reasonable American with a pulse knows that much of what goes on in the undercurrents of Washington D.C is disturbing. It is not often, however, that one proposed piece of legislation encapsulates nearly everything that is wrong in our Federal Government, unfortunately that is exactly the case with Senate file 481.
The name of this bill is the Federal Response to Eliminate Eating Disorders, or the F.R.E.E.D Act. It is sponsored by Sen. Tom Harkin (D-IA), co-sponsored by Sen. Al Franken (D-MN) and Sen. Amy Klobuchar (D-MN), and was introduced in the Senate on March 3, 2011. If you have ever wondered what Tom Harkin and Al Franken have been up to lately you are about to find out not just the what, but more appallingly the why.
Before examining the wide ranging particulars of the bill, let us first take a look at a very suspicious factor in its origin— a company called Herbalife International.
Without getting too far into the maze of legislative language (though you are welcome to do just that by following the links), what this bill does is continue the re-write of The Social Security Act of 1935 that The Patient Protection And Affordable Health Care Act (Obamacare) began in 2010.
Specifically the F.R.E.E.D Act does the following:
• Redefines what our tax dollars can pay for by amending Sect.1905 of the Social Security Act (SSA) to add coverage for—screening, counseling, and non-prescription drugs used in the treatment of eating disorders.
• Amends Sect. 1927(d)(2)(A) of the SSA by removing the restriction that specifically excludes payment for—"agents when used for anorexia, weight loss, or weight gain".
• Though it was passed only last year, amends Obamacare to include coverage for eating disorders treatment.
The effective implication of this, among other things, is that it would authorize Medicare and Medicaid pay-outs for over-the-counter drugs used in the "treatment" of eating disorders. For a private company which sells such products this change in the law would represent nothing less than the Holy Grail—government purchased sales.
In what would be a remarkable coincidence, Tom Harkin's biggest political contributor over the last 22 years is a company called Herbalife International. Not an agro products company, an insurance provider, or a labor union as you may suspect, Herbalife International is in fact a global nutrition and supplement company that specializes in "healthy" weight loss.
Herbalife International earns the distinction of becoming Harkin's biggest single donor by having given him a total of $137,916.00 since 1989. Between the years 2005-2010 they gave Harkin $55,606.00, a display of generosity which came after already having donated over $40,000.00 to him in the 2004 campaign cycle alone.
Some investigating shows that not only does Herbalife International have a wide range of products directly or indirectly tied to weight gain, weight loss, and eating disorders, but that the issue is one of a deeply personal nature for the company. Herbalife was founded in 1980 by a man named Mark Hughes, now deceased, whose inspiration for starting the company was his belief that his mother died of an eating disorder and an "unhealthy approach to weight loss".
While there is no way of knowing what they have in the future pipeline, the products they currently offer that directly relate to eating disorders include Zinc and Thiamine B1 supplements. The medical link lies in the fact that a person suffering from an eating disorder, by nature, has deficiencies of these compounds in their system, which supplements can effectively correct.
Illustrating the connection between nutritional supplements and eating disorder treatment is a report released by the Royal College of Psychiatrists in London entitled "Guidelines for the nutritional management of anorexia nervosa". One of many similar studies, it recommends that in planning the diet for a patient with anorexia, particular attention should be given to "the need for long-term, well balanced vitamin and mineral supplementation". It goes on to say that "A significant proportion of patients with anorexia nervosa are deficient in thiamine, and the increase in carbohydrate metabolism that occurs during re-feeding may exhaust inadequate thiamine reserves. The use of prophylactic thiamine supplements in oral form is recommended for in-patients and those undergoing rapid weight gain".
In addition to the already defined role that supplements have in treating eating disorders with Zinc and Thiamine, there are ongoing studies looking at whether the lack of these in the body may actually cause the onset of eating disorders, opening the possibility that in the future such supplements may also be used in preventative care.
By all appearances what we have here is a major global company giving a U.S Senator over $90,000.00 in a seven year period and then being the beneficiary of a sweeping piece of legislation, sponsored by said Senator, which authorizes our government to pay for the company's products.
It would be a mistake to conclude this is a simple case of a company giving a legislator money to be their puppet; in fact Tom Harkin has been one of Capital Hill's loudest advocates for alternative medicine and prevention for 20 years now. In 1992 he was primarily responsible for the Office of Alternative Medicine coming into existence, and in early 2009 said the following:
On several occasions, I have laid down a public marker, saying that if we pass a bill that greatly extends health insurance coverage but does nothing to create a dramatically stronger prevention and public health infrastructure and agenda, then we will have failed the American people.
Clearly he feels Obamacare has "failed the American people" and is proposing this bill to make it even more inclusive and expansive, which is certainly his prerogative.
Whether or not he has a genuine conviction on this issue, and frankly I believe he does, is beside the point. What is at issue here is that his largest political donor stands to make gigantic amounts of money should legislation that he proposed be signed into law.
Though we have allowed and accepted the institutional development of these types of relationships and practices, we as the American public have a right to know about them when they occur.
Note: Tom Harkin's Washington D.C office was contacted for comment and clarification regarding this story.  So far they have provided neither, as soon as they do this story will be updated.
This is only one of many disturbing elements of this legislation. Here is part two entitled: "The Stench of Impropriety: Your Tax Dollars, Your Body Image, and The Government (Part 2 of 2)", where many other provisions of this bill are examined, including Al Franken's involvement.