Filed Under: 2012 Elections, Featured

Print This Post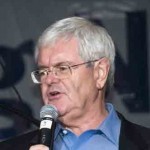 If you think that Republicans aren't ready to engage with the newest generation of voters in 2012, you might want to think again.  One of the most experienced politicians in the ranks of Republicans, with 20 years in the US House of Representatives, 4 of which were spent as Speaker of the House, Newt Gingrich announced his intent today to run for President of the United States on Facebook and Twitter.
At least, it's being seen that way… actually, kind of an interesting announcement.
Twitter:
Be sure to watch Hannity this Wednesday at 9pm ET/8pm CT. I will be on to talk about my run for President of the United States @seanhannity
Facebook:
I have been humbled by all the encouragement you have given me to run. Thank you for your support. Be sure to watch Hannity this Wednesday at 9pm ET/8pm CT. I will be on to talk about my run for President of the United States.
"… as I talk about my run …" seems like a fairly passive statement for a man like Newt.  While the news wires are treating this as a formal announcement, I think I'll treat it as an "in case you weren't paying attention, I'm ready to run" kind of announcement.  I'm expecting something more "formal" on Wednesday.
So, certainly watch Hannity.
But more importantly, he is expected to be in Des Moines on Monday, May 16, although a detailed schedule is not available yet.  When we know more, we'll let you know.
For those of you looking to find out how to support Newt, you can contact Will Rogers at [email protected], or call him at 515-669-1648.
Photo courtesy Andrew F. Kazmierski / Shutterstock.com
About the Author
Mr. Smith is the Publisher of The Conservative Reader. He is Partner/Owner of Ambrosia Web Technology as well as a Systems Architect for Wells Fargo. Art hold a degree in Computer Science from Drake University in Des Moines, Iowa, and is a political blogger at the Des Moines Register. Art's views are purely his own and do not necessarily reflect the views of Wells Fargo.
2 Comment(s)
Montana | May 9, 2011 at 9:24 pm | Reply

Newt Gingrich just wants another opportunity to cheat on his new wife with an intern just like the TRUMP did or does, the only difference is that Newt buys American unlike the DONALD who can't handle the made in the US label.

George Washington | May 19, 2011 at 10:38 am | Reply

If I may please;

American speaking to American, please I beg, look into Mr. Ron Paul's issues and why he takes, as he always has, the positions he does.

Mr. Ron Paul's 2012 platform creates jobs!

Strengthened dollar means increase in literal productivity do to the attractiveness of having "trust redeemable at any bank in the USA." An increase in purchasing power due to a re-regulation of gold to back our paper dollar, would cancel inflation almost immediately.

Lower fuel prices, lower food prices, lower retail prices + strengthen dollar = more spending power per dollar!

That "more spending power" goes right back into the economy!
Imagine how the above could help Your Family in the next 4 years?
Imagine how the above could help Your Country in the next 4 years?

Please please please, give a serious look into what Mr. Paul's platform represents.

Long ago JFK called for the Nation to come together to touch the moon. 50 years ago exactly, we struggle to maintain even something as simple as a budget. Time for a non-bipartisan change please.

Constitutionally, legislatively, and morally, Ron Paul has no equal. His 22 year voting record speaks for itself.
Please help give America back Her Constitution.
Ron Paul for President in 2012.
Thank You
Sorry, comments for this entry are closed at this time.