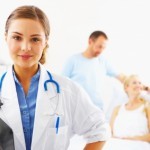 We've had a number of great opportunities to interact with our Congressmen in townhalls, the President speaking anytime he gets within 50 feet of a camera, and Kathleen Sebelius criticizing a reporter for not sneezing into his elbow.  What's really interesting is that none of these folks really know anything about providing medical care for, well, anybody.
Here's an opportunity TONIGHT for those of you that are interested in the perspective of a (Christian) Physician's organization with regard to the Healthcare Reform currently being discussed in Congress.  Granted, the world view of Christians in the medical field will be skewed toward Christ's admonitions to feed the poor and heal the sick, but perhaps we can put up with that kind of crazy talk (wry smile).
BRISTOL, Tenn., Sept. 28 /Christian Newswire/ — The Christian Medical & Dental Associations (CMDA, www.cmda.org), the nation's largest faith-based organization of doctors announced they will hold a free Webcast on healthcare reform, "Health Care Reform – The Good, the Bad and the Ugly" on Tuesday, Sept. 29, 2009 at 8:30 PM/EDT. The Webcast can be accessed by going to www.livestream.com/cmda. Freedom2Care, an ad-hoc coalition of conscience-affirming organizations is a sponsor of the event.

Dr. Gene Rudd, Sr. VP for CMDA will moderate the event. New Jersey Congressman Christopher Smith; David Stevens, MD, MA (Ethics), CEO for Christian Medical & Dental Associations; Douglas Johnson, Director for National Right to Life Committee; Jonathan Imbody, CMDA VP for Government Relations; David Christensen, Senior Director for Congressional Affairs, Family Research Council and Claude Allen, former Domestic Policy Advisor to the President, Deputy Secretary of the Department of Health and Human Services (HHS) will be discussing HR3200.

"Initially, the Webcast was planned for our members, but after hearing an overwhelming response for a larger distribution from our members, the broadcast will now be open to the general public," states Dr. David Stevens. "I hope many of the media outlets that use CMDA as their trusted source on health issues, will let their listeners know of this opportunity."

Questions can be sent in advance to [email protected].

CMDA is a national organization with over 80 ministries, including international missions, ministry on medical and dental school campuses, continuing medical/dental education and a policy arm that educates members, the church and the public on bioethical issues.
I think it will be interesting to hear the perspective from this group.  I plan to listen in.