Filed Under: Uncategorized

Print This Post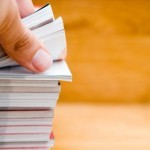 Not something you have to pay for (well, maybe), but legislative bills. Kim Lehman wrote a piece at Caffeinated Thoughts (Shane took a few days of well-deserved vacation).  She provides some key valuable insights into how to understand a bill's content. Well worth the time!
Kind of scary to think that more constituents are reading these bills than the Congressmen and Senators themselves.
We'll add a link to this in TCR Tools as well.
Reading Assignment:
About the Author
Mr. Smith is the Publisher of The Conservative Reader. He is Partner/Owner of Ambrosia Web Technology as well as a Systems Architect for Wells Fargo. Art hold a degree in Computer Science from Drake University in Des Moines, Iowa, and is a political blogger at the Des Moines Register. Art's views are purely his own and do not necessarily reflect the views of Wells Fargo.
Sorry, comments for this entry are closed at this time.