Filed Under: Featured

Print This Post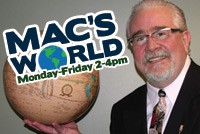 J. Michael McKoy, formally of 98.3 WOW-FM, has found a new home in Des Moines.  We had previously mourned his departure from that station.
He is now on PRAISE-940 AM KPSZ, a Christian radio station from 2 PM to 4 PM.  The promo piece at the radio station web site calls the show "Mac's World" as it was previously at the old station, and speaks of Mac's experience in Des Moines business and broadcasting… and adds "… or how to talk and walk on a daily basis with your Father God."  To be expected.
It will be interesting to see how he does in this new venue.  I suspect he will do well, although if there is a stronger faith angle to the programming, his relevance in political circles may diminish… or not.  Addressing faith matters is hardly new for him, as he has kept faith as a fresh aspect of his show while in the secular world, including a regular show with his pastor each Friday (will that continue?).
Meanwhile, he is right up against his replacement whose show airs from 1:20 PM to 4:00 PM.  Bradshaw has been reported to be sometimes desparate to get callers, although when I listened one afternoon last week, it sounded like he had plenty of takers.  But listening to him is hard… you almost have to have a shorter attention span to follow him as he bounces from one thought to another.  Downright exhausting!
Welcome back, Mac!
About the Author
Mr. Smith is the Publisher of The Conservative Reader. He is Partner/Owner of Ambrosia Web Technology as well as a Systems Architect for Wells Fargo. Art hold a degree in Computer Science from Drake University in Des Moines, Iowa, and is a political blogger at the Des Moines Register. Art's views are purely his own and do not necessarily reflect the views of Wells Fargo.
Sorry, comments for this entry are closed at this time.