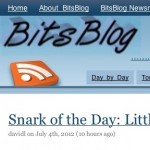 [1]In the spring of 2012, we brought a new addition to The Conservative Reader's Pages.  Eric Florack at Bitsblog [1] and I spent some time looking at the work we were both doing with our sites and have decided that it would be beneficial to the readers of both to bring BitsBlog into the TCR world.  We have helped each other out by writing for each other from time to time for several years now.  BitsBlog's format will remain as it has, but you will notice more visibility regarding BitsBlog articles and vice-versa as we build on this relationship and make other changes to The Conservative Reader's main page in coming months.
The content of BitsBlog [1] remains the responsibility of Eric Florack, similarly to how TCR: Iowa is the responsibility of Justin Arnold.  Please do not hesitate to contact each of these fine gentlemen if you have questions or comments about their respective sites.
We really should have brought this announcement to you a few months ago, but time has been too short to allow us to do so.  I apologize for this omission.
To the writers and readers of BitsBlog, welcome to The Conservative Reader!  We look forward to a long and prosperous relationship!