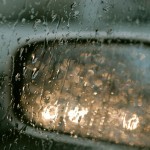 [1]I had a new life experience last week — a brush with death.
I was on my way from school to meet with my son-in-law Jake and friend Brandon at a Starbucks in West Des Moines.  Torrential rain was making visibility a bit difficult, but not impossible.  I wasn't traveling at a high rate of speed on I-35 south.  Semis were flying by me.  Rain was collecting on low spots of the interstate.  Between Hickman Road and University Avenue in Urbandale, I hit a pool of water, and I started hydroplaning.
I am sure that some people in this reading audience have experienced hydroplaning, but this was a first for me.  The sensation was similar to hitting ice on the highway in the winter.  I quickly discerned I had no control of my vehicle. Suddenly, my 2003 Saturn Vue literally skipped like a rock on water, and I started into a 360-degree spin from which I could not extricate myself.
There was not enough time to remember the driver's education maxim, "turn in the direction of the skid."  Everything happened VERY quickly.  My speed was fast enough that I was quite concerned about coming out of the spin and what I might hit (or be hit by).  I slammed hard sideways into the temporary concrete construction barriers and bounced back almost into the inner southbound line of traffic.
Interestingly, I first thought about the comments I had made to my wife Cheryl on Sunday as we were driving away from church:  "This car has been so good to us.  We've taken good care of the vehicle.  I hope I can run it into the ground at 200,000 miles!"  Little did I know that I would run it into harm's way just two days later.  Sadness about the possible loss of this vehicle was my first overriding emotion.
The rain was still coming down hard.  I had the presence of mind to call 911 right away and report my accident.  Then, I called my son-in-law to let him know the reason for my absence from our weekly Bible study.  Next, I contacted Cheryl and assured her I was fine.  Finally, I called back to school to ask that everyone be cautious as they drove through rain waters on any streets and highways.
I sat and waited.  No one stopped.  People had certainly seen me fly like a whirligig on the interstate.  But no one stopped.
I suppose that's understandable.  Rain was pouring down.  Traffic was heavy.  Vehicles were catapulting southward.  But I'd like to think that, if I had been trailing a single-car accident of this type, and I had the opportunity to stop and help, I WOULD stop and help.
Eventually, a highway helper did stop.  He was very friendly and kind.  I appreciated his empathy for my wellness.  He stayed with me to protect me and my vehicle as we waited for emergency vehicles.  Urbandale Police Officers arrived.  They were also helpful and concerned about me.  In the midst of the frustration about this accident, I was definitely reassured by the tremendous care of emergency personnel.
Cheryl arrived at the accident scene.  She was concerned for me, too, of course.  I was grateful that she was understanding about the accident and not frustrated with me for the inconvenience of having to leave work early.  I made the decision to drive my Vue the few miles to my mechanic in Clive.  As I write this entry, I await the prognosis of the damage and repairs.
Only when I stood and waited for Cheryl to pick me up from the auto shop did I really look at this situation "through the rearview mirror."  I was VERY fortunate during this accident.  What if I had spun back directly into the line of southbound traffic?  The spin slammed me into the concrete wall, and I stayed safely in place there.  What if another vehicle spun out right behind me and right into me?  No vehicle was near me to the rear.  What if I had crashed head-on into that wall?  I hit the wall in the absolutely "safest" way possible, saving extra damage to my vehicle.  What if my air bag had deployed?  I have heard about the neck injuries and burns which occur with hard impacts resulting in air bag deployment.  What if I had rolled my vehicle?  As always, I had my seat belt on, so I became grateful for that faithful habit.
God protected me.  God protected my life.  I don't want to be overly dramatic, but I was grateful, through hindsight, for my life.  Life is precious.  Anyone reading now who has experienced a dramatic near-death experience, or who has experienced a sudden or tragic death to someone close to you, can relate to that sentiment.  Ask survivors in Japan, Alabama, and Missouri.
I have one life.  God gave me that life.  As a Christian, I believe my life is not my own.  In the spirit of Romans 12:1, I must obediently offer myself "as a living sacrifice" to God.  I must exercise my spiritual gifts and my unique abilities back to God.  I am to be a good steward of the life, talents, and time which God gives to me.
I wasn't really thinking of death as my Vue spun in a circle on that highway, or when my car hit that barrier.  I wasn't thinking of death when I contacted 911, Jake, Cheryl, or school.  Given time to reflect, though, I did think of the death which DID NOT occur and the life which is so valuable to me, and to God.
Please learn from my experience.  Appreciate your life.  Don't take any day for granted.  Invest your life for positive influence — and for God's honor and glory.  Amen.