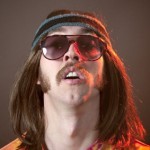 [1]Leave it to Mötley Crüe to be the prophets of the age.  In 1989 they recorded their high-test Doctor Feelgood disc that contained the lead single by the same name.  Besides being a musical treat, the song foretells (or retells) a very old story.  Living amongst us, in the pit of our deepest worries, is the man that can make it all go away.  We aren't necessarily certain as to how he actually does it, but we really want to believe that he can do it.  Even if it's a hoax, that is just fine.  We need a visit, every once-in-awhile, from the good Doctor Feelgood.  It is the messianic story.  And he is the agent in Joseph Campbell's Hero with a Thousand Faces. The chorus of the tune goes like this:
Let him soothe your soul, just take his hand
Some people call him an evil man
Let him introduce himself real good
He's the only one they call 'Feelgood'
So, what does Dr. Feelgood's tell us? Please, pull up a chair.
All of our overwrought fears are completely unwarranted, senseless and harmful.
We can all lock arms and work in a symphonic fashion to solve for any issues we might face.
The data is "on his side" and that he (Dr. Feelgood) has a Gnostic understanding of its meaning.
Everyone's interests are being considered and no difficult trade-offs must be made.
The Promised Land is right around the corner, just let him work their magic.
The notion of Evil is silly and outdated, and the only enemy we really have is ourselves.
The reason we are in trouble is that we have outdated beliefs that can be easily dismissed.
We have been duped by the other guys, who do not have our best interests at heart.
Our feelings of being oppressed are completely justified, and we really are the victims.
The fate of humanity is one paved with love and simplicity and peace and hope and goodness.
Gosh, that all feels so good doesn't it?  I, for one, feel better already.  We can be 100% worry-free just by accepting these ten very easy-to-follow steps.  Just let him soothe your soul!  In faith, just take his hand…
He is our only hope.
And that would be true, but for the existence of one small detail that we might want to ponder for just a moment.
The fact that some people call him an Evil Man does not make it not so.
Our kindergartners are taught that when a strange man pulls up in a car and offers you a ride, run away and tell an adult.
Lesson for first graders: When the strange man shows up again and starts spouting off the list enumerated above, run away and tell an adult.
Lesson for adults: When the President of the United States incorporates the entirety of the above list (several times) in the same State of the Union speech: run away and drive him out of office.