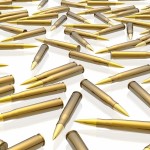 [1]A friend of mine at work shared an interesting story.  A few weeks back we had discussed gun ownership.  I purchased a handgun about a year ago, and he was thinking about buying one.  I told him it went pretty smoothly for me… I went to the County Sheriff's office, filled out the forms, and a week later I had my purchase permit.
So, he went ahead and got his permit.  It took two weeks instead of one (possibly they are a little backed up with requests?).  Then he went a big box outdoor store here in town and purchased a 9 mil.  No big deal.
Except he couldn't purchase any ammunition.
Not that he needed something rare and hard to find.  They were out of a LOT of different ammunition.
The salesman told him they would hold some back for him, but evidently they are having a hard time keeping it in stock.
I could have predicted this, but I didn't notice it was happening until I talked to my friend.  Duluth [2], Lubbock [3], Colorado Springs [4], and even here in Des Moines [5], it happening all over.  From talking to some other friends it sounds like manufacturing is already at capacity and everything that will be produced through the end of the year is spoken for.
All this without Congress or the President or the Supreme Court lifting a finger (okay, the court did split on the Heller case).  People are nervous that their rights are going to be (or are already being) trampled upon.
I'm glad to see people being willing to exercise their 2nd Amendment right to bear arms.  I'm amazed at what I'm seeing, however.  The country was happy to vote Obama in, but addressing the risks or shortcomings as necessary.
I'm glad the President could do his part in stimulating the firearms industry!
Thanks to WDIO-TV, KCBD-TV, KRDO-TV, and The Des Moines Register.